When Thoughts Spin Out of Control
Preparing Our Hearts to Receive a Miracle (Part 3)
Life happens whether we are ready for it or not! Everyday there are circumstances that develop and continue without our input. People speak, act and change, governments rise and fall, life starts and ends—all outside of our control. It is often those moments which we can't control that disturb our thoughts the most. Those are things that play over and over in our minds while we lay awake at night, wondering if we will see every hour tick round on the clock, because we can't switch off our brains to sleep.
The truth is, we will never be able to control everything around us, but we can learn to control those thoughts that appear from nowhere and send us spinning in circles. We can become the Ring Master of this circus called life!
Controlling Our Thoughts
The realization that I could control my thoughts was never more real to me than in those moments when life and death were hanging in the balance:
When I'd had so many seizures that I needed to learn to walk again.
When the doctors told us that our unborn baby was deformed and offered us a termination.
When our child was given a week to live.
When we were sued, and it looked like we would lose everything that we had worked for.
When thugs threatened to burn our house down.
When we had loved and lost.
When life hurt so bad it hurt to breathe.
In those times, survival depended upon our ability to listen to the voice of God above the chaos.
Fear is the Enemy of Faith
In my last blog, I mentioned fear being the enemy of faith. Fear was an emotion that I lived in for a long time, until the Lord showed me that I had power over it through a simple picture. The picture was of an airport control tower and planes circling overhead. Each time a plane approached the tower and came into radio contact, it had to request permission to land. Those planes did not have the authority to land without the go-ahead from the control tower.
Our thoughts are like those planes. We cannot stop those planes coming into contact with our mind but we do not have to give them permission to land!
This is what the bible is talking about when it mentions taking every thought captive (2 Cor. 10:3-5).
Identifying the Source
We can literally recognize and isolate thoughts and judge whether they are good, bad or ugly. In other words, are they from God, the devil or just our flesh? A great measure to decide this is John 10:10:
"The thief cometh not but to steal and to kill and to destroy. I am come that they might have life, and that they might have it more abundantly."
Does the thought bring fear or dread? That would be from the enemy. Does it fill us with love, joy, peace? That would likely be God. The flesh can be a little harder to distinguish sometimes, but if we are seeking first the kingdom of God, and God wants to give us the desires of our hearts, chances are that our ambitions will be in line with His. Failing that, the Holy Spirit will guide us in the right direction because we are in relationship with Him.
In finding a thought circulating that's not good or God, serve the eviction notice! That would be anything that challenges a promise of God: fear, anger, poverty, sickness, despair, etc.
Controlling Emotions
This amazing ability on the inside of every believer enables us to be in control of our emotions rather than having our emotions control us. Thoughts left unattended can quickly turn into a runaway herd of wild horses—they need training!
This is your life, your air space. Start controlling the air traffic in it today, and watch the transformation in your life that happens as a result of preparing your heart to receive more than you could hope or even imagine!
"Now to him who is able to do immeasurably more than all we ask or imagine, according to his power that is at work within us." — Eph. 3:20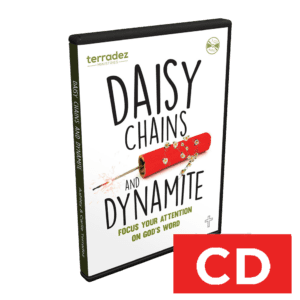 Daisy Chains and Dynamite
When one bad thought leads to another and gains momentum, before you know it, you can end up with a mountain of distractions or "daisy chain" thoughts. In this teaching, Carlie Terradez will help you learn to speak "dynamite words"—the miracle-working power of God's Word—over yourself and have it obliterate any "daisy chain" thoughts that can be blocking your miracle.
Learn to live in the "dynamite" moments of breakthrough!