Built to Win!
If failure has become an unwanted house guest in your life, and one that you would like to evict, read on. The fact is, as children of God we were built to win, destined to reign and designed to succeed. That makes it even more frustrating when we just can't seem to get over a hurdle. Everyone needs to win, sometimes!
For example, as a girl who was five foot nothing and built like a twig, I was as surprised as anyone when our high school athletic coach decided that I should run hurdles and enter the high jump.
The hurdles themselves came up to my chest, each topped with a thick wooden plank designed to inflict maximum bruising on any short or lazy-legged individual who attempted to leap over them. As a result, my knees became blue and swollen. The more I focused on not crashing into them, the more crashing happened. I hated them all indiscriminately, and I definitely did not feel like I was built to win.
Perspective
Apparently, Coach saw in me a quality that was more important for success than the limitations of my physical stature. Rather than adjust my physical technique, I needed a vision adjustment. Coach's advice was to focus on the finish line, rather than on the obstacle that was in front of me. It was not the obstacle that determined the outcome of the event, but rather how I viewed the obstacle.
Our thinking about a situation has more power over the outcome than we realize. To quote Winston Churchill:
"Success is not final, failure is not fatal: it is the courage to continue that counts."
The Lord sees our circumstances differently than the world does, because He sees us differently than we do. He says that we are world overcomers, that no weapon formed against us will prosper, that we have faith enough to move mountains, and that life and death are in the power of our tongues. How we respond to situations—what comes out when we are squeezed—depends on what we have put in our hearts in the first place.
In fact, depending on our perspective, we can be just like the twelve spies who returned with their report from the promised land. If we see ourselves as grasshoppers, unable to defeat the giants, that thinking will determine our defeat.
Factory Reset
The good news is that we can reset our thinking and break free from small-minded, negative, grasshopper vision!
For instance, what do we do when our computers or cell phones stop functioning properly? First, we reset them. Second, we may need to restore the device to its default, or factory settings. Once we've done that, it will operate the way its creator intended. Is it time for a factory reset in your thinking?
Well, let's take a look at how our systems are functioning. Our first response to any situation will indicate how well we are operating in relation to our Creator's original design. So, what comes out when we are under pressure? These pressure responses to life circumstances are often pure emotion: fear, anger, insecurity, worry, disappointment, or confusion. Unfortunately, these responses ultimately result in negative outcomes.
However, if we recognize that our thinking needs a factory reset, praise Jesus, we don't have to stay stuck there! We can transform our thinking by focusing our thoughts to be more in line with His. As we do that, we can see breakthrough (Isaiah 26:3).
Three Keys to a Godly Perspective
So, how do we reset to a built-to-win mentality? Here are three keys to developing a Godly perspective that will help you to win from the start:
Believe for Good – God has spoken over your life and called you blessed. He has said that you are built to win. Choose to believe His report, agree with Him, and speak out that blessing!
"I would have lost heart, unless I had believed
That I would see the goodness of the Lord
In the land of the living.
14 Wait on the Lord;
Be of good courage,
And He shall strengthen your heart;
Wait, I say, on the Lord!"
2. Wait on the Lord –This little word, "wait," is more than just hanging around until something happens. It is to look expectantly, to be hopeful and eagerly waiting—to believe the best. Believe that you are built to win, and expect that it will come to pass.
3. Be of Good Courage – Once we have eye-balled the situation and decided that we are going to agree with God's report rather than what it looks like naturally, we have drawn the line in the sand and set our hearts that we will not be moved. This word "courage" means to be constant, firm footed, steadfast, and immovable in our faith (Joshua 1:8).
Practicing these three things—believing God's report that we are built to win, having an expectation of good, and refusing to be moved away from a decision of faith—enables the Lord to strengthen our hearts. In short, God literally makes our hearts strong!
In my teaching entitled Giant Killers, learn how you can keep your eyes on the report of the Lord that says you are built to win!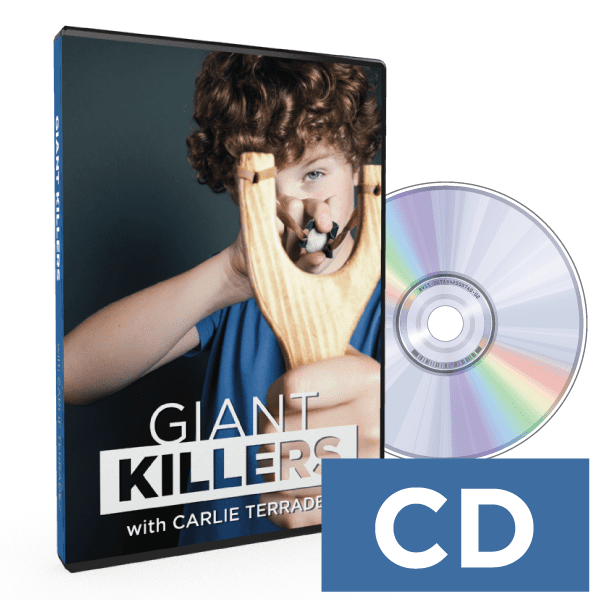 Giant Killers
God sent the children of Israel to possess the land that He had given them as an inheritance. When they saw the land, they found out that there were giants in it that they needed to overcome in order to take what was rightfully theirs.
God has provided us with an inheritance too. He has blessed us with every spiritual blessing in heavenly places and everything needed for living a successful, happy, healthy life. This two part teaching will show you how to slay the giants in your land and receive all that God has for you.
Listen to Abundant Life TV Audio 

Choose Your Favorite Format: