Some of you may have seen the 2006 film entitled 300. It tells the story of a Spartan army of only 300 men who held off a Persian army of over 300,000 troops. Those are some overwhelming odds, right? Although it makes for exciting entertainment, history tells us the truth: the Spartans had allies who helped in that battle, and their total numbers were actually around 7,000, and the Persians more likely numbered between 100,000-150,000.
"Then the Lord said to him, 'Peace be with you; do not fear, you shall not die.'"
The Real "300"
However, the Bible tells of a story where there truly was an army of only 300 men who were overwhelmingly outnumbered. In fact, the Bible states that this enemy army was "lying in the valley as numerous as locusts; and their camels were without number, as the sand by the seashore in multitude" (Judges 7:12). Not only were the heroes of this story vastly outnumbered, but the opposition had such high numbers that they couldn't even be counted. Talk about being underdogs!
A Hero?
Now, most action-adventure movies feature a large-muscled hero, strong, fit and skilled. These heroes usually face overwhelming odds yet are victorious in the end. In total contradiction to this stereotype, the Lord called Gideon, an Israelite farmer. The Midianites and Amalekites were destroying the Israelite crops and livestock, causing them great poverty and distress. So, this farmer was threshing wheat in a winepress to hide it from their enemies, cowering in fear. Gideon was far from being the poster child for a leader of armies!
In fact, this is how Gideon saw himself: "O my Lord, how can I save Israel? Indeed my clan is the weakest in Manasseh, and I am the least in my father's house" (Judges 6:15). Gideon certainly didn't see himself as a leader. He felt small, weak, and insignificant. He was frightened, yet the Angel of the Lord called him a mighty man of valor! God saw the situation in a completely different way. He saw Gideon as a strong warrior, well able to defeat his enemies.
God eventually convinced Gideon to take up the mantle of the leader of Israel. He told Gideon, "Go in this might of yours, and you shall save Israel from the hand of the Midianites. Have I not sent you? …Surely I will be with you, and you shall defeat the Midianites as one man" (Judges 6:16).
Overwhelming Odds
Gideon took the Lord at His word and left fear behind. Although he began with thousands of troops, his army was still grossly outnumbered. Yet, contrary to natural logic, God whittled those numbers down until Gideon had only 300 men with which to fight this deadly army. In fact, the Lord said to Gideon, "The people who are with you are too many for Me to give the Midianites into their hands, lest Israel claim glory for itself against Me, saying, 'My own hand has saved me'" (Judges 7:2).
Even though the situation already looked impossible, it seems that the Lord wanted it even more overwhelming!
Why would the Lord send thousands of soldiers away? First of all, God's ways are not like our ways. The way the kingdom of God works is not by natural rules. When we encounter "impossible" situations, God doesn't worry. He gets excited at the opportunity to show up and prove His power and faithfulness to His promises! John 15:7-8 says, "you will ask what you desire, and it shall be done for you. By this My Father is glorified, that you bear much fruit." When we experience victory, God gets all the glory!
Victory Over Overwhelming Odds
In Gideon's face-off with the Midianite and Amalekite armies, when the battle was over—and the tiny army of only 300 men emerged victorious—the God of Israel received all the glory for it! If you ever begin to feel overwhelmed by a seemingly impossible situation, don't be afraid. The enemy will try to get you in fear to keep you from stepping out in faith into your victory. Remain in peace and don't forget that you serve the God of the impossible. In fact, the worse a circumstance may appear, the greater the opportunity God has to bring about an amazing miracle that will bring Him all the glory!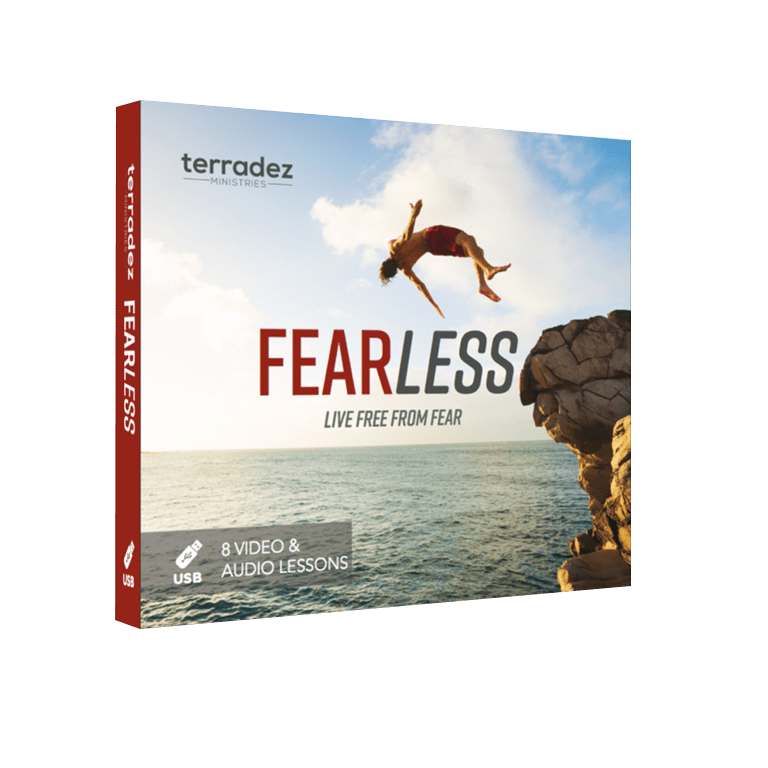 Fearless
Now is the time to abandon a life of worry, anxiety and fear, and launch into a life of faith, boldness and power! God created you to live a life free from bondage to fear! In this series, you'll learn that as you make choices-large or small-fear cannot hinder you from following the Lord's direction.
Choose Your Favorite Format: