The world was created by the spoken words of God, and the Bible says that all things are held together by the word of God's power (Hebrews 1:3). God has also given us the authority to use our words as well (Mark 11:22-23). Words have a profound effect on the world around us, including our own minds. Not only do our words display our thoughts, they can also be a tool we can use to change our thinking. We can use our words to take our thoughts captive.
Stop and Think
When you say something, your brain has to stop and focus on what you are saying. You can't speak something and think something else at the same time. When your mind is filled with thoughts of worry, anxiety, fear, unbelief, depression, or hopelessness, you can redirect your brain. You do this by speaking out the promises of God instead. By doing so, you are forcing your brain to think on the promises of God. You are retraining your brain to think godly thoughts!
This works even when you haven't yet become fully persuaded that something in the Word of God is true. When you choose to speak words of life over your life, you will begin to believe what you are saying. You can build yourself up by your words!
Death and life are in the power of the tongue,
And those who love it will eat its fruit.
– Proverbs 18:21
Whatever words you are speaking, you will "eat its fruit." You will experience the fruit of the words you have spoken. We are all constantly confessing things. It is important that we are confessing the Word of God rather than the circumstances. You can either say what you see, and nothing will change, or you can say what you want to see and see your circumstances change.
Take Your Thoughts Captive
2 Corinthians 10:4-5 says, "For the weapons of our warfare are not carnal but mighty in God for pulling down strongholds, casting down arguments and every high thing that exalts itself against the knowledge of God, bringing every thought into captivity to the obedience of Christ."
If you have a thought that is contrary to the Word of God, it is trying to exalt itself above the knowledge of God.
Typically, people look to their body or circumstances to tell them if they are healed. They wait to feel or see something to determine if their miracle has been provided. Often if they do not see an instant difference, they become discouraged and think, "It doesn't work!" But the Word says, "Do not become sluggish, but imitate those who through faith and patience inherit the promises" (Hebrews 6:12).
What Does the Word of God Say?
In short, "taking thoughts captive" means weighing each one as it comes to see if it lines up with what God says. If a thought doesn't match up, it needs to be corrected with the truth.
For example, if someone thinks, "I'm not worthy; I don't deserve to receive healing," that's a lie. If healing was somehow based on our goodness or on our performance, no one would ever be healed—not even those in the Bible. Nothing we receive from God is based on us—it's based on what Jesus did. That thought must be replaced with the truth found in the Word: "I am the righteousness of God in Christ Jesus. He bore my sickness and disease when He died on the cross for me; by His stripes I was healed!" (2 Corinthians 5:21; Isaiah 53:4; 1 Peter 2:24).
It is important to encourage yourself first with the Word and then guard your tongue. Don't dig up the seed of faith planted in your heart by confessing everything that is going wrong. Just like a farmer must have patience to allow the seed he planted to grow, we must not give up on faith but allow it to work miracles in our lives.
Use your words to take your thoughts captive. Speak out God's promises and watch your thinking get in line.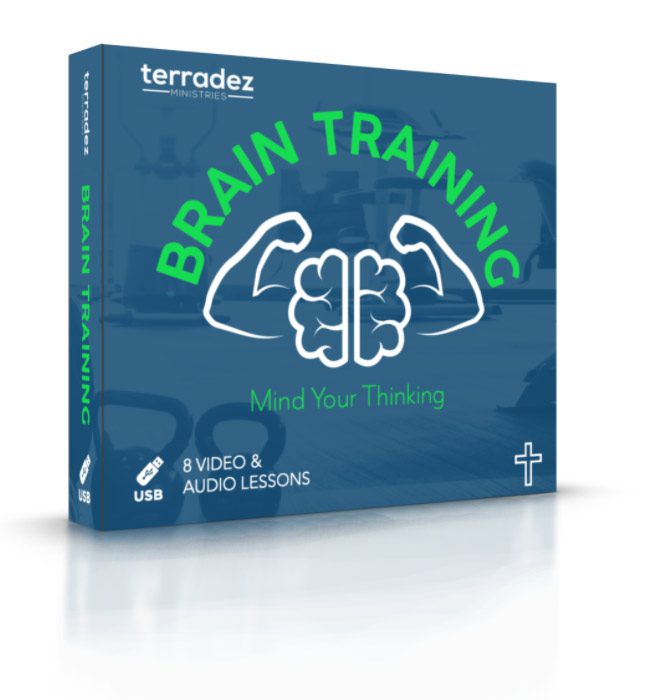 Brain
Training
It is vitally important to become mindful of the source of your thoughts: the world or the Word. So, it's time for some Brain Training! Discover what the Bible teaches about the mind, and how to be transformed by renewing yours. Learn how to keep your life from conforming to the pattern of the world around you and to start seeing things from God's perspective.