The Cure Event 2021
Apr 22, 2021, 5:30 pm

-

Apr 24, 2021, 12:00 pm

Free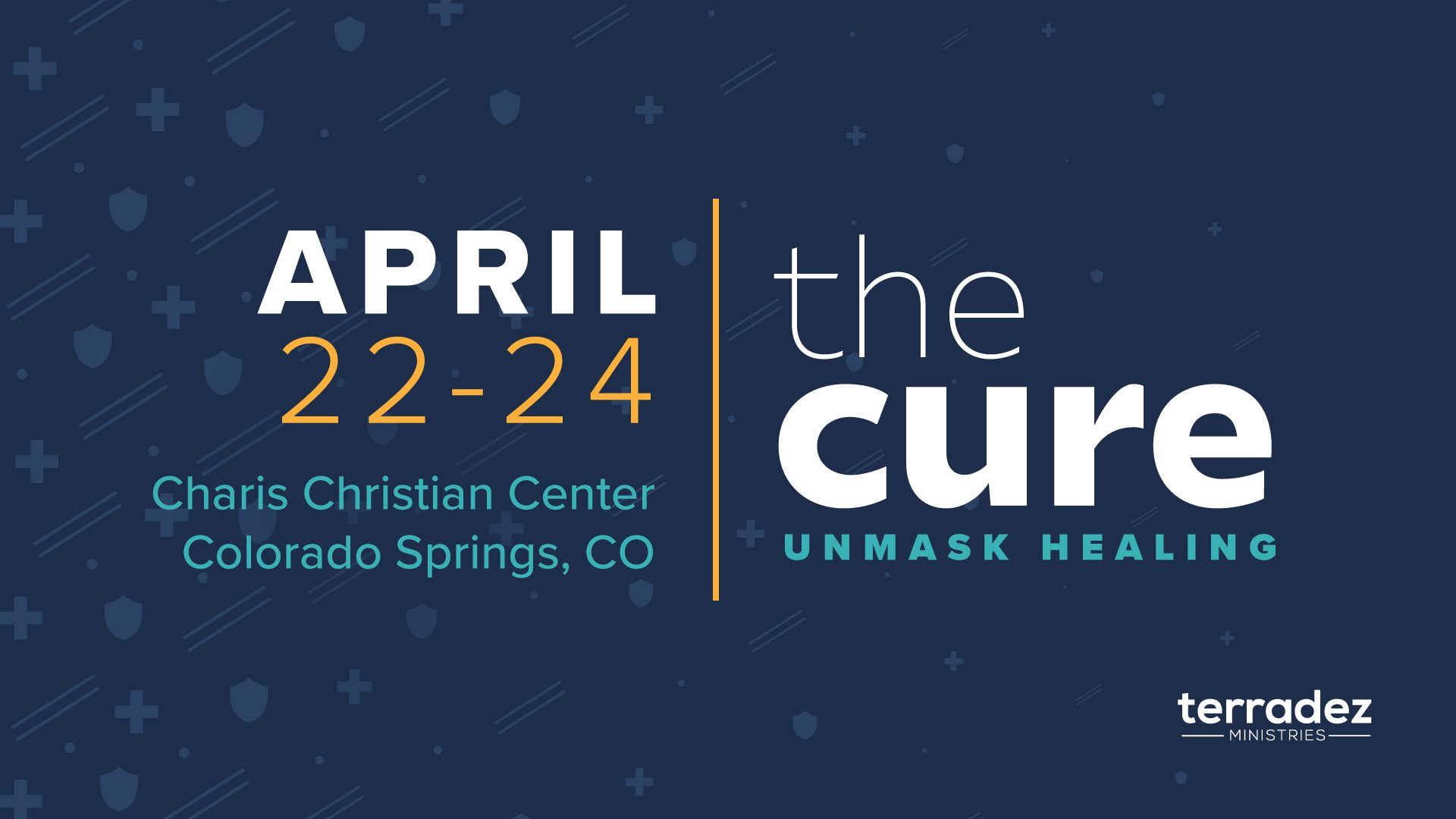 Reserve Your Spot
opens in new tab
The Cure Event 2021
No matter what the disease, Jesus is the cure! Join Ashley and Carlie Terradez for The Cure event on April 22–24 at Charis Christian Center in Colorado Springs. They will be joined by guest speakers Pastor Lawson Perdue and Prophets Joseph and Heather Z. These anointed speakers use Scripture to make supernatural healing simple—to unmask healing and reveal Jesus, not as a distant Savior but as your present Healer!
This FREE three-day conference will be a power-packed interactive experience, including Spirit-led worship by Kyle and Kari Kuschel, giveaways, and more!
At The Cure, you will experience the Healer! Come and participate with other believers in a time of miraculous restoration. Whether you need healing for yourself or desire to grow in ministering healing to others, The Cure is a great place to receive and learn! Join Carlie as she kicks off the event on Thursday evening. The session will begin at 7pm, and doors will open at 5:30pm.
On Friday, April 23, join us for more faith-building teachings and a special pizza lunch as we celebrate our first year of Power Academy! Ashley and Carlie will be sharing highlights of this past year, special videos from our guest instructors, and more! Event registration is required to participate in this free meal. This is a great opportunity for Power Academy students and event attendees to connect and build friendships. Power Academy is an online eLearning platform that is provided tuition-free by the generous partners of Terradez Ministries.
Supernatural healing and miracles, both physical and emotional, are not rare occurrences. They're a normal part of the everyday Christian life, and they're yours in Christ! Every week we receive many testimonies of believers who have been supernaturally healed and have ministered healing to others, and we expect to see even more when we gather in-person at this event. The power of God is more contagious than the sickness of the world. Come and be inoculated by the Word of God and experience The Cure for yourselves!
The Cure Schedule: 4/22/21 – 4/24/21
Thursday, April 22:
5:30pm      Doors open
7:00pm      Worship with Kyle & Kari Kuschel
7:35pm      Session 1: Carlie Terradez
Friday, April 23:
8:30am      Doors open
9:00am      Worship with Kyle & Kari Kuschel
9:35am      Session 2: Ashley Terradez
10:30am    Break
10:50am    Session 3: Pastor Lawson Perdue
11:40am    Session 4: Carlie Terradez
12:30pm    Power Academy Lunch (open to all registered attendees)
5:30pm      Doors open | Resource area open
7:00pm      Worship with Kyle & Kari Kuschel
7:35pm      Session 5: Joseph & Heather Z
Saturday, April 24:
8:30am      Doors open | Resource Area open
9:00am      Worship with Kyle & Kari Kuschel
9:35am      Session 6: Ashley Terradez
10:30am    Break
10:50am    Session 7: Pastor Lawson Perdue
11:30am     Session 8: Joseph & Heather Z
12:30pm    Prayer Ministry (Ashley, Carlie, Joseph, Heather, Lawson, Barbara)
Related Events