You have authority on Earth! Humans have a natural tendency to go through life and simply accept whatever challenges are thrown their way. However, as believers, we don't have to take whatever comes and just deal with it. We have power and authority to bring change to our circumstances!
After Jesus' death, the Bible teaches us that He stripped the powers of the enemy (the devil and his cohorts) of all of their power and completely won the battle (Colossians 2:15). This means that the authority that was lost when sin entered into the world was won back by Jesus!
"In this way, he disarmed the spiritual rulers and authorities. He shamed them publicly by his victory over them on the cross." – Colossians 2:15 New Living Translation
Jesus Is Alive
Some of you may be thinking, But... Jesus is still dead, though… Right?
No, my friends: Jesus is risen! This is the best part! Although, surely the devil thought he had won, Jesus didn't stay in the grave, twirling the keys of hell and death around His finger. On the third day, He rose again! He was victorious over the enemy, and He bought back with His sacrifice every single thing that had been given over to the devil when Adam and Eve submitted to his lies!
Afterward, the Earth and all authority belonged to Him!
But what about us? What about humanity? At this point, we would think that it might just be a good idea for Jesus to hang onto that power and authority for Himself. He could just set up His kingdom here on Earth, keep all the screwed-up humans in line, and get things back in order! But guess what? Rather than doing that, He did something even better because our God is just that good!
Jesus said this, "…All authority has been given to Me in heaven and on earth. Go, therefore, and make disciples of all the nations…" (Matthew 28:18-19, emphasis added).
The Lord said that after He rose from the dead, He had all authority in heaven and the earth. But then He said, "Therefore [because I have all authority], I am now giving you that authority, too! So, go and use it!"
More Evidence That You Have Authority
However, I understand that may not be enough to convince you that we now have the authority that Jesus purchased back for us, so let's look at just a couple more scriptures.
"And these signs will follow those who believe: In My name they will cast out demons; they will speak with new tongues; they will take up serpents; and if they drink anything deadly, it will by no means hurt them; they will lay hands on the sick, and they will recover." – Mark 16:17-18, emphasis added.
"Behold, I give you the authority to trample on serpents and scorpions, and over all the power of the enemy, and nothing shall by any means hurt you." – Luke 10:19, emphasis added
Jesus was born miraculously of a virgin who had been impregnated by the Holy Spirit. He lived a perfect life, died a horrible death—voluntarily (for us!)—completely reversed the curse that had been placed on humanity since Adam and Eve sinned, and rose victoriously from the grave! Then, He gave all authority over the earth back to mankind.
After that:
"So then, after the Lord had spoken to them, He was received up into heaven, and sat down at the right hand of God. And they [His disciples, not just twelve, but many] went out and preached everywhere, the Lord working with them and confirming the word through the accompanying signs." – Mark 16:19-20, brackets added.
Now What?
In conclusion, we are disciples of Jesus! Believers in Jesus are those "who believe". so we are well able to fulfill the scriptures. We have been given power and authority to cast out demons, speak in tongues, live lives protected from harm—even in the face of adversity—lay hands on the sick and see them recover, and destroy the works of the enemy.
For example, if you have experienced sickness in your body, take authority over it. Your body is the temple of the Holy Spirit and sickness and disease cannot trespass (1 Corinthians 6:19). Use the Word of God to present those symptoms with an eviction notice! Disease cannot stay, in Jesus' name. Speak to your body, "Cancer, you are a trespasser, and I command you to leave! Every cell in my body is healthy and whole, in Jesus' name. I am strong, and I have healthy organs. I speak life and creation to dead hair follicles; hair, grow!"
What about financial lack? The Word of God tells us that we are blessed and that everything we set our hands to will prosper! (Deuteronomy 28:8). So, tell your empty bank account, "You are a liar! My God shall supply all of my needs according to His riches in glory. I am blessed to be a blessing! Everything I touch prospers, and the Lord teaches me to prosper. Doors of opportunity open to me, and the Holy Spirit gives me wisdom in every situation. My God takes pleasure in my prosperity! Therefore, my storehouses are overflowing so that I have abundance to give to every good work."
You have been given authority on Earth. Receive it, use it, and watch your life change!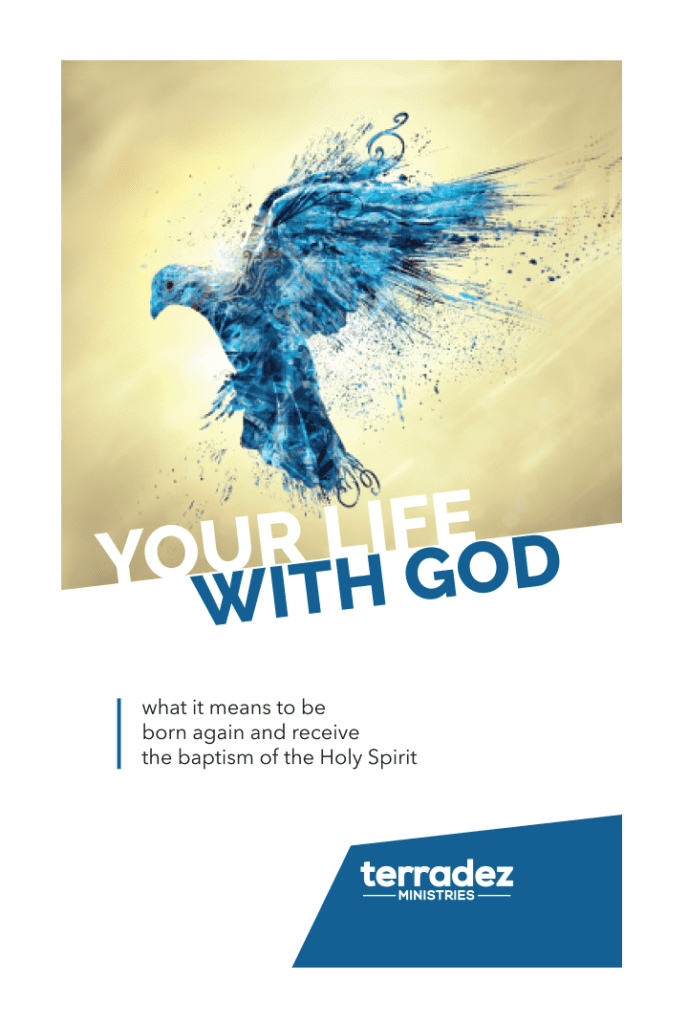 Your Life

with

God
Why do we need a savior?
What does it mean to be born again?
How can I know God?
What is the baptism of the Holy Spirit?
How do I become born again and receive the baptism of the Holy Spirit?
Answers to all of these questions, and more, can be found within the pages of this little book. God desires to have an intimate relationship with all of us. Your Life with God teaches God's plan for mankind and how you can have fellowship with your Creator!We pray that you will receive revelation from God of His deep and precious love for you.