The power of thanksgiving and praise can completely change any situation you may be facing!
"Rejoice always, pray without ceasing, in everything give thanks; for this is the will of God in Christ Jesus for you." – 1 Thessalonians 5:16-18
Many people say, "I want to know God's will for my life," and that is a great desire to have. Right here in this verse, God gives us a great place to start: thankfulness! Being thankful and rejoicing in every situation is what God's will is for your life. When we start rejoicing always, praying without ceasing, and giving thanks in everything, we will find it is a lot easier to hear from God and discover what God's will is for our lives.
During the Trial
Now, it's certainly easy to be thankful when everything is going well. But what about when things seem to be going all wrong? We all know that attacks of the enemy rarely put us in a good mood! When we are in the middle of a trial, it is the time when we least feel like praising God and giving thanks. However, these moments are precisely the most important times to enter into thanksgiving and praise.
Sometimes you may have to give the Lord thanks through gritted teeth, when you're having a "flesh-flash"! Your flesh won't always enjoy what is going on because it is focused entirely on the natural realm: what you can see, taste, hear, smell and feel. Your carnal (natural or fleshly) nature might get upset when something bad happens in your life. Yet, your spirit is constantly rejoicing, and it is vital that you tap into that power and allow it to influence your soul. When you allow your spirit to dominate your soul, it makes all the difference!
David Gave Thanks
David had to tell himself to praise the Lord in the midst of trying circumstances. In fact, in Psalm 103, he said, "Soul! I'm telling you right now to bless the Lord!" He had to talk to his soul in Psalm 42:11 when he said, "Soul, why are you so upset? Hope in God!" Rather than letting your situation affect how you feel, take authority over yourself and tell yourself to be thankful and rejoice.
In 1 Samuel 30, the Amalekites had raided the city of Ziklag and burned it. They had kidnapped the wives and children of all of David's men, and they were so angry, they actually threatened to stone David for it. This was a bad day! Yet, in verse 6, it says, "But David strengthened Himself in the Lord His God." The King James Version says that David "encouraged Himself in the Lord." You can also encourage and strengthen yourself in the Lord through thanksgiving and praise! When you do so, this enables the Lord to come in and change your situation around.
David was encouraged in the Lord, and God told him, "Pursue [the Amalekite army], for you shall surely overtake them and without fail recover all" (1 Samuel 30:8, brackets added for clarity). The interesting thing is that David's army of 400 men must have been vastly outnumbered, for it says in verse 17, "Then David attacked them from twilight until the evening of the next day. Not a man of them escaped, except four hundred young men who rode on camels and fled."  The number of those who ran away from the fight was the same number of men David had to begin with!
Don't Forget You Are Blessed!
While attending Bible college, Ashley was buying and selling cars. However, all of the money was tied up in the vehicles that hadn't yet sold. There wasn't even any cash to buy groceries! The cars weren't selling, and Carlie had gotten to the point where she was starting to grumble and complain. She had neglected to be thankful for what they had, only focusing on what was going wrong, and it was hindering their prosperity, having physical consequences.
She asked the Lord what was going on, and God told her, "You've forgotten that you are blessed." That was a wake-up call! Carlie changed her attitude, and rather than complaining about the lack, she thanked God for what they had. Then she laid hands on the cars and spoke blessings over each one. Within about three days, all the cars had sold!
The Power of Thanksgiving and Praise
Let's look at one more example of where praise and thanksgiving can bring change to your situation. In Acts 16, magistrates had torn off Paul and Silas' clothes, beaten them, and thrown them in prison. Even in a dark dungeon, backs beaten and feet in stocks, they did not moan and groan about their circumstances. They didn't say, "God! We were doing what You told us to do; how could You allow this to happen?" Instead, the Bible tells us, "But at midnight Paul and Silas were praying and singing hymns to God, and the prisoners were listening to them. Suddenly there was a great earthquake, so that the foundations of the prison were shaken; and immediately all the doors were opened and everyone's chains were loosed" (Acts 16:25-26).
The chains in your life can be broken through the power of thanksgiving and praise! Magnify the good in your life, praise God and give Him thanks in everything. There will always be something good that you can find to give thanks for! As you focus on the good, on how good God is, and rejoice in all things, you will experience breakthrough in your life.
Related Resources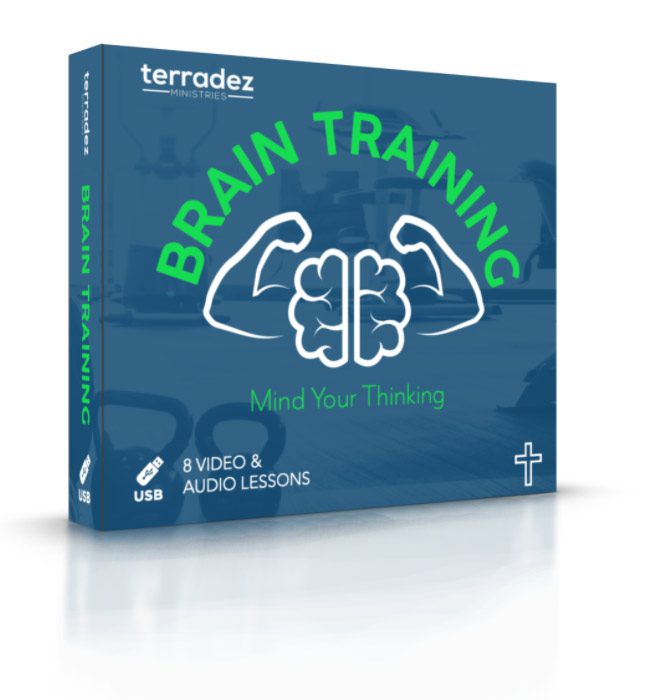 Brain
Training
It is vitally important to become mindful of the source of your thoughts: the world or the Word. So, it's time for some Brain Training! Discover what the Bible teaches about the mind, and how to be transformed by renewing yours. Learn how to keep your life from conforming to the pattern of the world around you and to start seeing things from God's perspective.