There are some very common questions in the world today, especially among Christians: Does God allow evil? Why do bad things happen? These are questions that really need to be addressed. If we believe that God allows evil things to happen on earth, we can't believe for victory over them.
Back to the Beginning
To fully understand why bad things happen, we need to go back to the beginning:
26 Then God said, "Let Us make man in Our image, according to Our likeness; let them have dominion over the fish of the sea, over the birds of the air, and over the cattle, over all the earth and over every creeping thing that creeps on the earth." 27 So God created man in His own image; in the image of God He created him; male and female He created them.
— Genesis 1:26-27, emphasis added
When God created humanity, He gave the earth to us as a gift. Psalm 115:16 says, "…But the earth He has given to the children of men." Once God gave the earth to humanity, He relinquished His control to their stewardship, to their free will, and their choices had a profound impact.
When Adam and Eve believed the word of the serpent over the Word of God, they gave their control to the devil. The enemy had manipulated them into giving up their sovereignty over the earth and over everything within it. Creation had fallen from its perfect state, and from that moment, it began to decay.
Why Do Bad Things Happen?
Bad things happen because we don't live in a perfect Garden anymore, the way God had originally intended. We live in a world that has been corrupted by sin and is in a state of decay. Therefore, sickness and disease run rampant. In addition, humanity continues to exercise free will, and many of those decisions result in evil: war, murder, abuse, and more. None of these things occurred because of God's plan or because He has allowed it. The responsibility for these things falls at the feet of the sin of mankind and the plans of the evil one!
God Still Had a Plan
Since mankind had been given the earth to care for, to have dominion over and subdue, God couldn't legally just reach down and "fix" everything in an instant. No, He needed a human being in order to accomplish that goal. So, His solution was for Himself to become a man to save humanity. When Jesus came, when God became a man, He won back our authority from the enemy, and then gave that authority back to us!
Jesus said, "Behold, I give you the authority to trample on serpents and scorpions, and over all the power of the enemy, and nothing shall by any means hurt you" (Luke 10:19).
In fact, not only has God given believers authority over this fallen world and the plans of the enemy, He has placed us into a new kingdom! "He has delivered us from the power of darkness and conveyed us into the kingdom of the Son of His love" (Colossians 1:13). This means that the rules of this decaying world do not have to apply to us. We can live and reign in this life according to the laws of the Kingdom of God, rather than remain subject to the evil that is in the natural world around us.
You Can Believe for Victory
If God were truly responsible for the horrible things that happen here on earth, what right or power would we have to try to fight against them? Thank the Lord, that is not the case! When bad things happen, we do not have to simply roll over and accept them. We can use the authority that Jesus gave us to fight against evil and believe God for victory!
"Now thanks be to God who always leads us in triumph in Christ, and through us diffuses the fragrance of His knowledge in every place" (2 Corinthians 2:14).
Jesus actually warned us that we would face negative circumstances in this world, but He had great news to go along with it, "These things I have spoken to you, that in Me you may have peace. In the world you will have tribulation; but be of good cheer, I have overcome the world" (John 16:33).
What to Do When Bad Things Happen
Use Your Words: Take your authority by speaking to the problem (Mark 11:23-24). Don't beg and plead with God to change your situation. He's already provided whatever you need through Jesus! Speak directly to your situation and tell it how it is going to change. "Pain, you leave my body right now, in Jesus' name! Body, the same Spirit that raised Jesus from the dead lives in you. You are the temple of the Holy Spirit, and He gives life to you. I am healed, by the stripes of Jesus!"
Praise the Lord: In Acts 16, Paul and Silas had been severely beaten and thrown in prison. However, they were "…praying and singing hymns to God, and the prisoners were listening to them. 26 Suddenly there was a great earthquake, so that the foundations of the prison were shaken; and immediately all the doors were opened and everyone's chains were loosed." Even in the midst of a trial, sing praises to the Lord! Your praise and worship is a weapon that will cause your chains to be loosed!
Rest in the Finished Work of Jesus: When Jesus gave His life on the cross, He said, "It is finished!" (John 19:30). When He died, His work was accomplished. He was saying that the wrath of God for the sin of mankind had been appeased, and He had delivered us from the power of darkness and into His kingdom! At the cross, He provided healing, protection, provision, and victory. That work is finished, so do not worry about your circumstances. Pray, speak the Word, use your authority, praise and thank Him, and enter into His rest! "Let us labour therefore to enter into that rest, lest any man fall after the same example of unbelief" 

(

Hebrews 4:11, KJV

).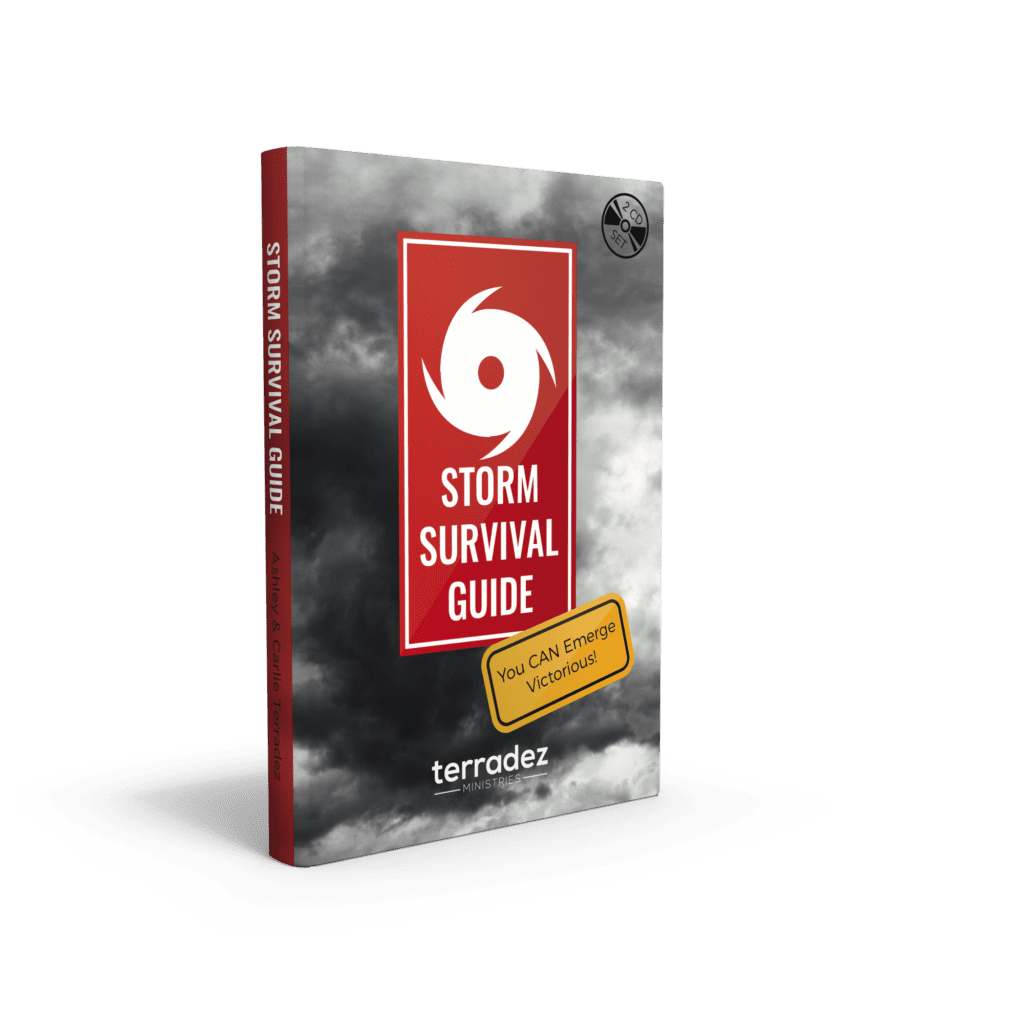 Storm Survival Guide
At some point, everyone will face a storm in this life. The good news is,  no matter the size of the storm or how impossible the situation looks, you can use the Word of God to overcome every challenge this life throws at you. But just like a life vest, you have to know how the Word of God works, and put it on before it will keep your head above water!
Choose Your Favorite Format: