The Bible says that we inherit God's promises through faith and patience (Hebrews 6:12). However, there is some confusion regarding what faith and patience actually looks like. Faith and patience doesn't mean inaction. In reality, faith and patience takes action while in the process of receiving the promises of God.
The Farmer's Faith and Patience
"…The kingdom of God is as if a man should scatter seed on the ground, and should sleep by night and rise by day, and the seed should sprout and grow, he himself does not know how." – Mark 4:26-27
When a farmer plants seed, he knows that seed is going to grow. To put it another way, the farmer has faith that the seed he planted will grow into good produce. Then he patiently waits for the seed to grow until the crop is ready to harvest. However, the farmer's patience does not equate to inaction. He makes sure that the seed is watered, he treats the crops to make sure pests don't eat them or weeds don't choke them. Yet, he knows that those crops will grow and generate a harvest!
You will receive the promises of God through faith and patience in the same way the farmer receives his crops. First you must plant the Word of God into your situation. Then you tend to those crops. As you continue to speak the Word, praying over them, praising and worshipping God and giving thanks for them, you will reap a harvest!
Planting the Seed
Jesus explains in Mark chapter four that the Word of God is the seed (Mark 4:14). When you are facing a challenging situation (sickness, financial lack, strife, etc.), you must plant seed that can grow into your victory harvest. First, you have to find promises in the Word of God that are relevant to whatever mountain is in your way. Second, you need to meditate on those promises, memorize them, and place them in prominent places in your home.
For example, if you are experiencing sickness in your body, you might choose to meditate on verses like 1 Peter 2:24, Isaiah 53:5, and Romans 8:11. Read them daily, put post-it notes of the verses on your refrigerator, or make wallpapers with the verses to go on your smartphone screen. Keep them in front of your eyes! (Proverbs 4:21).
Tending the Seed
One way to tend the garden of your heart is by speaking the Word over your life. Confess those scriptures over yourself, your household and your family. For example, "Whatever I do prospers (Psalm 1:3), God has given me the power to get wealth (Deut. 8:18), I lack no good thing (Psalm 34:10), and wealth and riches are in my house (Psalm 112:3)!" Or, "My body is the temple of the Holy Spirit (1 Cor. 6:19), and His Spirit gives life to my physical body (Rom. 8:11). I am strong and healthy and able to take the land the Lord has promised me (Josh. 14:10-12). Cancer, I command you to leave my body, in Jesus' name (Luke 10:19)."
Another way to care for the Word you have been planting is through praise and worship. As you sing praises to the Lord, you are directing your eyes on Jesus and away from the challenges in your life. Isaiah 26:3 says that when you keep your eyes on Him in trust, He will keep you in perfect peace. In Mark 4:18-19, Jesus compares worry with weeds choking the Word. When you are in perfect peace, the Word of God is able to grow unhindered. Giving the Lord praise and thanksgiving pulls the weeds of worry in your heart and releases the power of God to work in your life.
One of the benefits of praying in the spirit is you are tending the Word that has been planted in your heart. Jude 20 says, "But you, beloved, building yourselves up on your most holy faith, praying in the Holy Spirit." As you take time to pray in tongues, your spirit is praying perfect prayers that will bring breakthrough and revelation in your heart of the Word that has been planted!
Faith and Patience
When seed is planted and tended, the farmer knows that the seed is germinating. He knows that even though he cannot see any outside changes yet, the work has already begun underneath. In the same way, when we have planted the Word of God in our hearts, we know that it is working. Even if we cannot see or feel any differences, faith knows that the Word is causing change to take place.
Consider a miner with a pickaxe in search of precious stones. He knows in his heart the gems exist! Yet, with each swing, his axe tears away just another chunk of worthless rock. However, eventually, a precious gem is exposed to the light and he is rewarded for his diligent work. Which swing of the axe discovered the gem? Was it simply the final hit? No, it was all of them put together that brought the reward.
With every word of authority, every song of praise, every prayer, and every step of faith, the axe of your faith is digging away. If you continue and don't quit, you will have your victory!
"That you do not become sluggish, but imitate those who through faith and patience inherit the promises." – Hebrews 6:12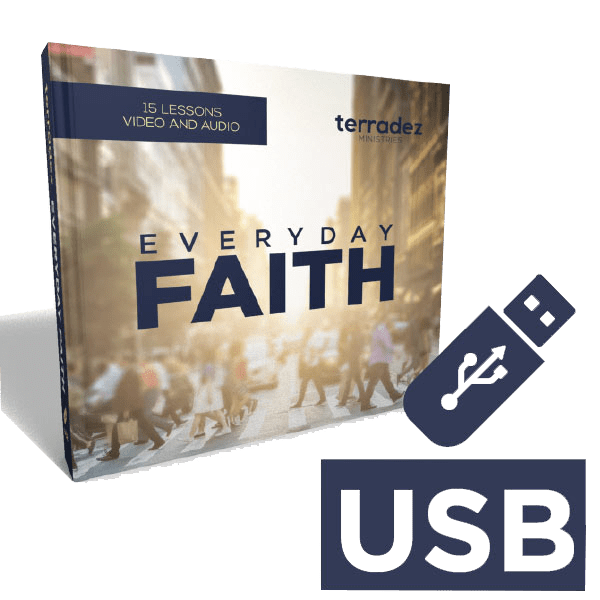 Everyday Faith
YOU have faith! Faith to subdue kingdoms, move mountains, shut the mouths of lions, raise the dead, heal the sick and cast out devils!
Learn how through faith and patience you can inherit God's promises for your life. Everyday Faith is a power-packed teaching series that will help you discover what faith actually is and how you can use it in your life–every day!
Choose Your Favorite Format: