Father God will never let you down! You might feel like your earthly dad was the best. Perhaps you think your dad was the worst. Or maybe your earthly father wasn't even around. However, God is a good Father, and the best dad!
Ashley & Hannah's Mochi Adventure
Fathers. They love us, teach us, cheer for us, want us to succeed, and when we have questions, our fathers respond in the most
profound
way:
"Go ask your mother."
In the midst of hokey "dad jokes" and finding fun in the most mundane of tasks, fathers also have an incredible gift for embarrassing their kids! Not long ago, Ashley and Hannah were in a grocery store picking up a favorite treat: mochi. An entourage from the Air Force came into the store, escorting a government VIP from Brazil. The Brazilian official saw the mochi and, through an interpreter, asked what it was. Hannah happened to be getting her own, so they asked her, "Miss, can you explain what mochi is?" Hannah went into a detailed explanation to the officials of how the dessert was made, through the Air Force Portuguese interpreter. Meanwhile, Ashley stood nearby, observing as Hannah handled it perfectly. After she was finished, the Brazilian man asked, "What do they taste like?" This is when Ashley chimed in, "It's so good! It tastes like…angel poo!" Ashley was simply trying to express that it was like heavenly chocolate, bliss on another level. It just came out a bit…wrong. Have you ever had one of those moments when you thought, "Lord! Rapture… Rapture, now! Now would be the perfect time!" That's probably what Hannah was thinking—she was so embarrassed! It's almost a requirement for dads to embarrass their children on a regular basis, just to keep life interesting! However, as entertaining and as much of a blessing our earthly fathers are, our Heavenly Father is infinitely more precious.
God Loves You
God's love for you compared to an earthly father's love for his children is like comparing the sun to a candle!
He has loved you since before the foundation of the world (
Eph. 1:3-6
).
Jeremiah 31:3
says that God has loved you with an everlasting love, and He has drawn you to Him with lovingkindness.
"…

That the world may know that You have sent Me, and have loved them as You have loved Me

." –
John 17:23
Wow! Jesus even said that the Father loves you just as much as He loves Jesus!
Paul prayed that you,
"18

may be able to comprehend with all the saints what is the width and length and depth and height— 

19 to know the love of Christ which passes knowledge; that you may be filled with all the fullness of God"
(Ephesians 3:18-19).
God wants you to know how much He loves you so that you can be filled with His fullness in every area of your life!
In fact, 1
John 4:18
says that God's love is even powerful enough to cast out all fear. Why? Because when you know how much God loves you, and His faithfulness in that love, you will never worry about anything. You will know beyond doubt that your Father God will 
never
let you down!
Father God Will Never Let You Down
Sometimes our earthly fathers can disappoint us, or let us down.
However, our Father God will never let you down. He will never leave you nor forsake you
(
Heb. 13:5
;
Deut. 31:6, 8
;
Joshua 1:5
). God is with you always, and He is so faithful to His promises! Some of you may not know what it's like to have a dad. Perhaps your father left you, or passed away when you were young. You may think, "I don't even know what it's like to have a good dad!" God yearns to show you exactly what it's like to have an amazing Dad!
Psalm 68:5
says that God is,
"A father of the fatherless…"
Psalm 10:14
says,
"…

The helpless commits himself to You;

You are the helper of the fatherless." 
If you have felt lost or alone, as though you have no inheritance, you have the most amazing inheritance! Father God has made you a joint heir with Jesus! (
Romans 8:16-17
). As a believer, you are entitled to inherit everything that you need for life and godliness (
2 Peter 1:3
). That is an incredible birthright that is yours through Jesus!
"Behold what manner of love the Father has bestowed on us, that we should be called children of God!"
–
1 John 3:1
There's another, very comforting, characteristic that your Father God has that outshines your earthly dad:
He won't ever embarrass you!
For the Scripture says, "Whoever believes on Him will not be put to shame."
—
Romans 10:11
Related Resources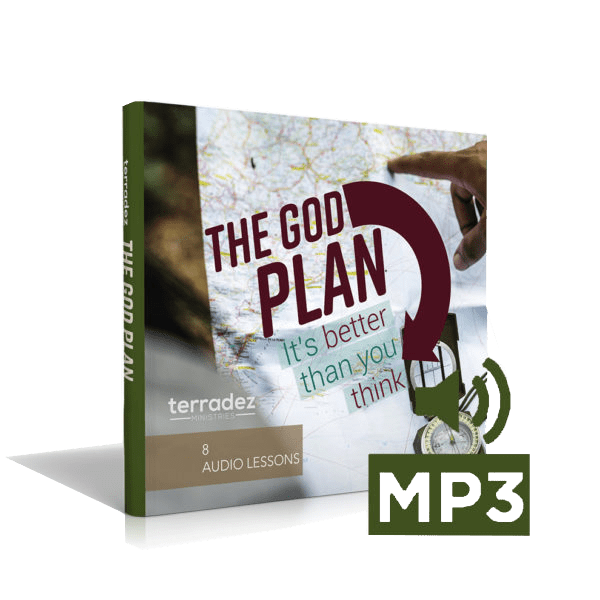 The God Plan
Even more than your earthly dad cheers for your success, God has incredible plans for you to succeed in life and fulfill your destiny! When you come into agreement with God's plan, your life will be better than you can imagine. This series will help you get with the plan God has for you so you can live an amazingly fulfilling life!
The God Plan Growth Track
Have you been foolish or weak? Have you been despised or considered to be nothing? If you can answer, "Yes," that is excellent news—you match God's qualifications perfectly! 
In our God Plan Growth Track, you will learn how to come into agreement with God's plan for your life. When you get on board with His plan, your life will be better than you can imagine!
Sign up to receive a FREE The God Plan digital kit, including:
Godly Goal Setting

 MP3 message by Ashley Terradez

Goal setting worksheet

Four-week email growth track

Encouraging printable poster

Exclusive discounts